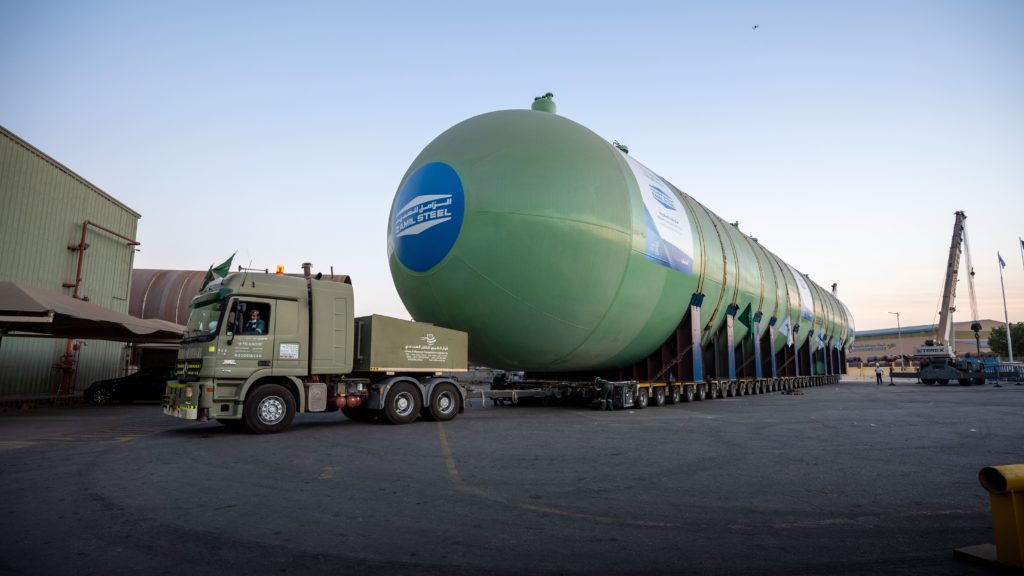 Zamil Steel – Mounted one of the Largest Gas Tank (100% Saudi)
Zamil Process Equipment Co. (ZPEC) successfully delivered the first of 10 custom-made mounded bullet tanks for the storage of liquefied petroleum gas (LPG) for the National Gas and Industrialization Company's LPG plant in Riyadh.
Each bullet measures 62.8 meters in length and 9.4 meters in diameter, and weighs over 820 metric tons. It can store up to 4,020 m3 of LPG.
The LPG storage bullet tanks are designed and manufactured to ASME and EEUMA 190 international standards. The design was analyzed and optimized using finite element analysis. The material selection was determined by the low design temperature and the high strength requirement, to withstand mound loads and pressure at −46°C.
Specially designed 1,000-ton rollers were obtained for final assembly work on fabricated sections during the manufacturing process. Road transportation was a major challenge when delivering these large and heavy bullets from the ZPEC factory in Dammam to the client's site in Riyadh